Massive neighborhood Day of Service in Salt Lake reinforces value of partnerships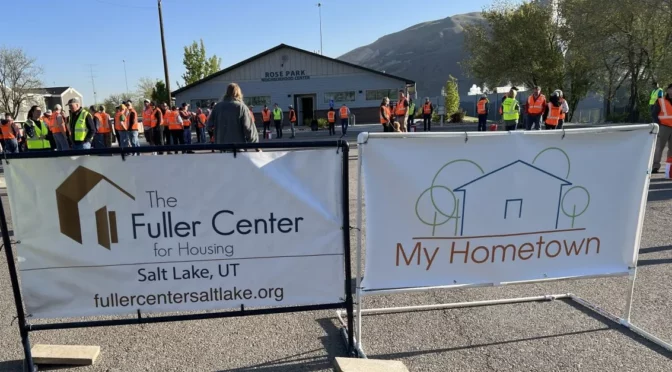 Fuller Center for Housing of Salt Lake President Tara Ross was certain in the fall of 2021 that for the covenant partner she leads to succeed, they needed to sharpen their focus.
"When I sought God's guidance in the fall of 2021 for direction in an already busy season, I remember specifically asking repeatedly: where do I subtract?," Ross recalls. "God answered in a very different way than what I was expecting, so I repeatedly asked for clarification. I couldn't deny the word I simply heard: multiply. I had no idea how that was possible, but I knew He knew the who and the what and the when"
Though The Fuller Center for Housing of Salt Lake was less than two years old, Ross had already learned the value of partnerships. In order to multiply the covenant partner's efforts, she would need to find the right partner. Instead, the right partner found The Fuller Center.
"When, not coincidentally but providentially — and on the heels of our openness to obey steps toward multiplication — we were approached by a group of folks called My Hometown Rose Park (MHRP) to partner on a large effort, we said yes. MHRP is a group of couples united as members of our state's predominant religion, commonly known as Mormonism, and by their desire in their golden years to put their resources in time toward elevating a low-income neighborhood in Salt Lake County called Rose Park," Ross says. "One of their goals was to complete five 'Days of Service, during which they invite the neighborhood community to work on maintenance and repairs for willing low-income neighborhood homeowners. Another one of their goals was to select a nonprofit to partner with specifically to build awareness and encourage and multiply the reach of that nonprofit. They found and called Fuller. And we gladly, in obedience, answered that call.
"After months of meetings, we not only planned a large event but also established deep respect and friendship for one another," Ross adds. "We may have sat at a table where different strains of theology were represented, but it was one where we had a common goal and purpose to follow in the footsteps of Jesus Christ who without judgment offered compassion and acknowledged need and set an example and a model of putting time and his effort toward the care of those in his literal path."
More than 150 volunteers converged on the Rose Park neighborhood on April 30 for their first Day of Service with The Fuller Center. Ross addressed the crowd as they gathered in a circle to start the day. Ross chose to share the parable from Luke 5:18-25, which she believed would be fitting for the day to come.
"I shared a short devotion with the story in Luke Chapter 5 when a group of friends creatively find a way to lower their paralyzed friend through the roof to get to the feet of the Jesus they believed in, the Jesus who heals, the Jesus who makes away, the Jesus who is faithful to His promises, the Jesus who has a plan that we can trust enough to keep walking and taking the next right step," she says. "That morning, we fanned out across the neighborhood, working on nine different properties, raking and painting and weeding and cleaning and yes, working on a roof."
By the end of the day, the lesson of that story played out through the neighborhood.
"One of the unique opportunities of the Fuller model is a structure that allows participation from volunteers of all ages, for families and individuals and couples, for people of different backgrounds to come together and pull together in unity around a need and to develop relationship through the process of transforming a place or a space for someone in need," Ross says.."And in that, at the feet of Jesus, we are transformed, too."